Frioul Archipelago
Ratonneau Island
IOTA EU-095
DIFM ME003
DFCF 13-061
19-20 March 2022
JRF
F4IDX Joachim - DMR
F4JAJ Remy - VHF
F4JDH Fred - SSB
F4VSQ Maciek - SSB/CW
F5OZK Fred - SSB/CW
F5SDD Dave - SSB/CW
27-28 July 2019
IOTA Contest
F4VSQ Maciek - SSB/CW
F5SDD Dave - SSB/CW
F6IRA Gilles - SSB/CW
28-29 July 2018
IOTA Contest
F4VSQ Maciek - SSB/CW
F5SDD Dave - SSB/CW
F6IRA Gilles - SSB/CW
15-18 August 2008
F1IKA Jean Michel - SSB
F5IVP Michel - SSB
F5ODA Eric - SSB
F5SDD Dave - CW / SSB
F6DHI Chris - Digi

25-27 August 2006
F1NSR Yannick - SSB
F4CJV Alexandre - SSB
F4CWN Florent - SSB
F5IVP Michel - SSB/CW
F5SDD David - SSB:CW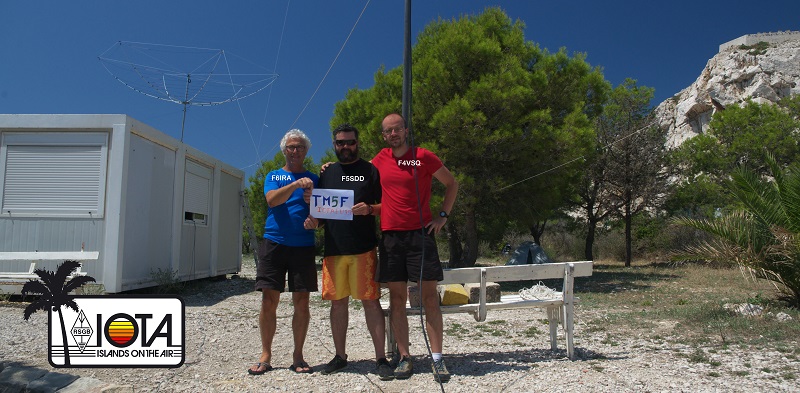 TM5F is located to Ratonneau Island.
Calanques, beaches, sandy creeks, impressive cliffs, the light quality and the water transparency make the islands a spot of great beauty. Still a conservation area, it is an authentic encounter in the Mediterranean sea.
The microclimate generates original and rare floral species, adapted to the conditions of aridity that characterize the spot.
Furthermore, the Mistral is the great actor of the islands, it sculpts, gnaws and arranges them. The islands are also the kingdom of plants called "xérophytes" because of the dryness and "alophytes" because of the salt and their strange forms. 200 species can be observed and some are protected. These islands are also a refuge for numerous birds. They are, for example, the favorite domain of the Caspian Gull, called "gabian" in Provence.
15 au 18 August 2008 Expedition on Frioul Archipelago EU095

Get free flights faster through Frequent Flyer Programs

Frequent Flyer Programs allow you to achieve free flights and other awards, both by flying, but even simply by using a credit card. However, the differences between all 180 programs worldwide are so huge that you should not simply use any program, but carefully select those programs corresponding best to your travel profile in order to maximise your personal benefits.


---

Our sponsor Global Flight offers exactly such a unique service and develops an individual Frequent Flyer strategy for you. And rather than the regular price of 129 Euros for a 12-month strategy, you pay only 99 Euros! Just order by 31 August 2008 and indicate on the order form the reference code TM5F to avail of this special discount.

You already know how to ride the world via radio. Now use Frequent Flyer Programs to travel for real - and free! Click here to go to the Global Flight site and to start earning free flights faster than ever before!"

---

Special Thanks to Radio Communication Concept for 40m vertical ground plane doing a good job.